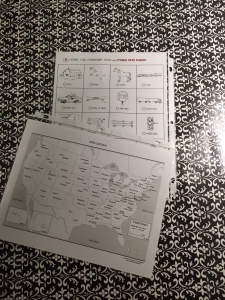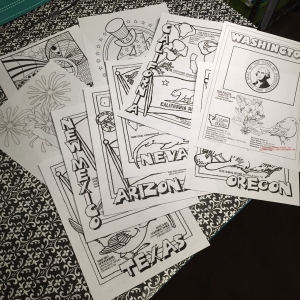 Our kids are not good in the car….well they can be.  Problem is they hate being in the car (we like to drive around and explore….a lot).  But when we told them we could stay in Washington or move home to Texas they obviously chose to deal with the long road trip….like they had a choice, lol!!!
We have an 11 yr old and a 6 yr old that would be traveling with us. They each have an iPhone (don't worry…no service is on my 6 yr olds….it's and old phone of ours and is basically a Nintendo DS but with better games, lol!!) and iPad (and these were handed down so it's not like we completely spoil our kids with new flashy items).  So first things first on a long trip like this is you have to completely give up all rules and allow them to use them…a lot!!!
A few days before we were to leave for our moving adventure I decided I should get some things for the kids to do so they're not completely bored or on devices all the time.
Since we'd be going through 7 states I went to the Crayola website for some free state color pages.  I printed 2 of each state we'd be going to so each kiddo had their own color page.  The great thing is it also had state facts on them.  I also printed a US map so they could follow our route.  That helps eliminate questions.
Since we'd be traveling on July 4th I printed out a color page for that holiday.  I also printed […]