Last year for Father's Day I made one kick butt card for the hubbs and knew I had to out do it this year.  So of course I hit up Pinterest!  I found several great ideas but with the air conditioning being out I didn't have much time to do anything.
First we gave Dad some money.  My middle son had been wanting to get him tools so I thought this was the best way but didn't want to put cash in a card….how lame is that!  So I went to my local Dollar Tree to browse the isles for ideas and decided to go with a mason jar.
So I put my $20 bill in the jar, added some basket shred, put my top back on, and hot glued a flower (in daddish colors) I made to the seal of the mason jar.  I also added some letters that spelled DAD on the jar.  They came from regular ole alphabet scrapbook paper and I attached them with my tape runner.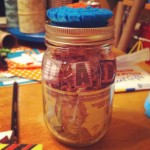 Next I made a document in Photoshop (yah…i was impressed with myself, lol!).  I put questions in that all 3 kids could answer no matter how silly or real it was.  It was real funny seeing the difference in them all.
Want this doc?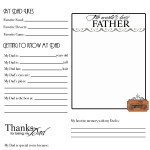 Download here: All About Dad.
Next up was a shirt i'd seen on Pinterest.  I had my very artistic 19 yr old stepson do all the work.  He decided to draw it with sharpie markers and he incorporated the first letter of each kiddo in the track (D,K,J).  I think he did a FANTASTIC job!  And Dad really loves this shirt!!
My last project I wanted to make was a handprint gift.  I got a document frame from the Dollar Tree and used scrapbook paper and cardstock I had on hand.  Traced the kiddies hands on scrapbook paper in coordinating blue's and taped them to my cardstock using my tape gun.  Before I taped them to the cardstock I created a paper in photoshop that said "We ♡ Dad" at the top and at the bottom it had the boys names and the year.  He liked it so much he took it to work with him!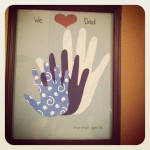 I hope all the Father's out there had a great Father's Day…I'm pretty sure ours did!.