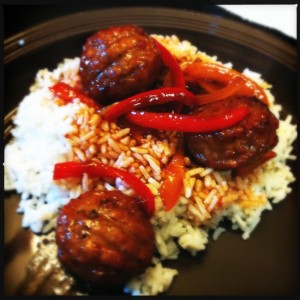 I found this recipe off the internet a couple years ago and I can NOT find the link to the actual recipe but here it is.
Asian Style Meatballs (for a family of 5 with big tummies, lol!)
1 big frozen package of prepared meatballs (we like the walmart brand of homestyle)
1   medium each: red and yellow pepper, cut up in chuncks or slivers…how ever you like them cut
¾ cup water
1 ¼  cup  apricot jam
1 ¼  cup catalina dressing
10 Tbsp.  soy sauce (little more than ½ cup)
1 ¼ Tbsp. each: ground ginger and garlic powder
3-4 cups of rice (we use instant)
COMBINE all ingredients except rice and meatballs in large bowl and mix well, add sauce and meatballs to skillet; cover. Cook on medium heat for 10 min., stirring occasionally.
INCREASE heat to medium-high; uncover. Cook 8 to 10 min., or until sauce is thickened and meatballs are heated through, stirring occasionally.
SERVE over the hot cooked rice.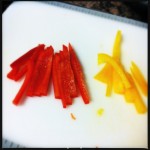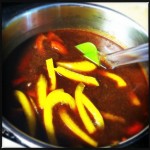 Cut your bell peppers up and add all the ingredients in a bowl and mix.  The jelly will be clumpy but once it's heated in the skillet it won't be.  I usually make the sauce a couple hours before I make the dinner and leave on the counter in a covered bowl.  Just so all the ingredients are room temp and marinating together.  Plus since it always seems like the kids bug me right when I'm chopping and stuff it's easier to do this step before hand while they're busy playing or doing homework.
We used Kroger meatballs this time but we can definitely tell you that the walmart ones are WAY better!!
Here's the rice we use.  I usually make 3 cups but need to start making 4 cups of rice.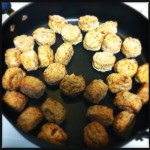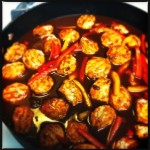 Get a BIG skillet, add meatballs, then add sauce and following cooking instructions above.
This is one of our family favorite meals.  I use to stress about making this meal because of all the ingredients when I wanted a good quick dinner.  I'm sure you could make the sauce the night before (minus the bell pepper–cut those up right before cooking).
I hope you try this recipe….It's super delish!.