Food trucks are popping up EVERYWHERE!  I found out about them through Red Jett Sweets.  And I found out about RJS back in September 2011 from a blog I frequent Cupcakes Take The Cake.  They live in New York so when I saw that they visited a mobile cupcakery in the Dallas/Fort Worth area I about flipped!  I had to go.  So after convincing my husband who thought it was weird we finally went!
Somehow I was so wrapped up in the adventure of a cupcake out of a truck I didn't get 1 single picture!  I've been back multiple times too and I still haven't captured 1 single stinkin picture.
When I found out there were several other food trucks I was wowed!  Now there are tons that I know of but I haven't been able to taste more than a couple of the trucks.  Luckily there are a few food truck parks that have opened up around us and I'm always trying to find a way to get there.  Now that my husband has tried a few he's a food truck lover too!
I find out about the food trucks through DFW Food Truck Foodie.  The Fort Worth Food Park was the first in Fort Worth to open.  Then this past Thursday the Cowtown Chow Down food park opened up.  In July a food park will open up less than 3 minutes away from my house!!!   I'm so excited for the Keller Food Park to open up!!
Here's a few of our favorite food trucks.
So-Cal Tacos (I do have a pic here!)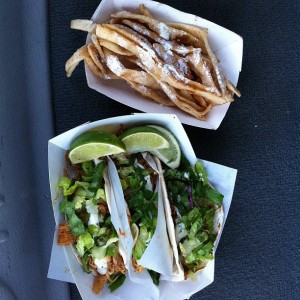 I can NOT wait to try several more since they'll be so close to home!.