For my son's 2nd and 3rd birthday we gave him a YGG Party.  He loves YGG soooo much (well did–last year, lol).  So for his 2nd birthday we didn't do much decor but the cake was AWESOME!!  We found an image online, blew it up, added the number 2 and sent it to a local bakery.  We spent so much money on that darn thing and we threw half of it away.  It just wasn't as good as my normal bakery but geeeee I thought it was so far that particular day.  Lesson learned…drive to the damn bakery!  But it was still a beautiful cake….$80 worth!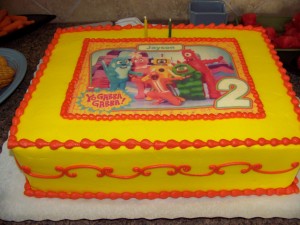 We had a small party.  Just family and a few friends.  Here in Texas it was still warm that early September day so we were able to get some last minute splash time in!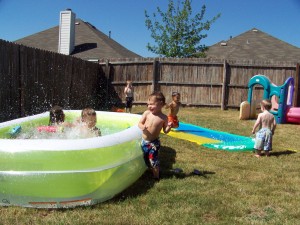 For his 3rd Birthday I had to get a little more creative….well since i've done it before it had to be better right?!  Well of course I googled…and I even pinterested (yup, made that word up just now!).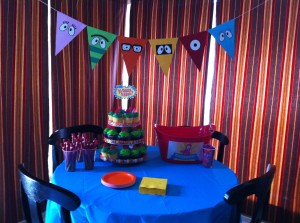 I LOVED the banner on this site so much I emailed her and she had sold hers on ebay recently but was sooooo kind she told me how she made it!  Our banner, we actually loved it so much we made 2!!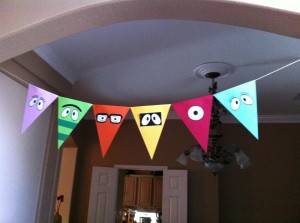 I saw these chocolate covered pretzels for a snack and didn't want to do all the characters so I stuck with Muno only.  EVERYONE loved them and OMG they were actually tasty.  I'd never had chocolate covered pretzels like this before.  They were very simple to make too!  I melted wiltons red candy wafers in a tall cup, dipped and swirled the rods (tap excess off) and applied an eye (found a pkg at walmart el super cheapo!) while the melted chocolate was still wet, and let dry on wax paper.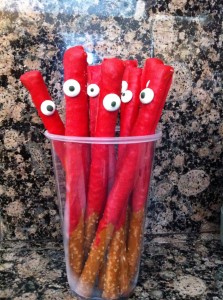 Then I found these cutouts on the YGG friends website.  I printed on cardstock and cut out and just taped to our tile fireplace.  And of course streamers!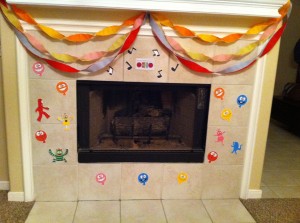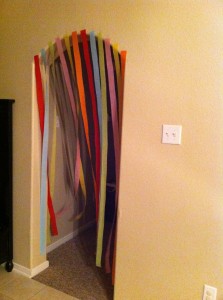 The cupcakes and cupcake stand!  I didn't have a ton of extra cash to just buy the cake stand I wanted so I got this $5 cardboard one and mod podged scrapbook paper and ribbon in YGG colors and used scrapbooking sticker decals for the Happy Birthday and balloons.  Probably cost me about $7.  For the cupcakes I had Kroger make me 12 chocolate and 12 vanilla cupcakes with 2 different colors of green frosting (about $16–hell of a lot better than that darn $80 cake the year before).  Then I made the Brobee horns out of leftover candy wafers from the Muno sticks.  With all the decorating I just didn't have time to make the cupcakes…I know bad mom!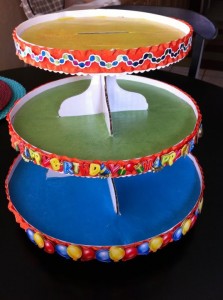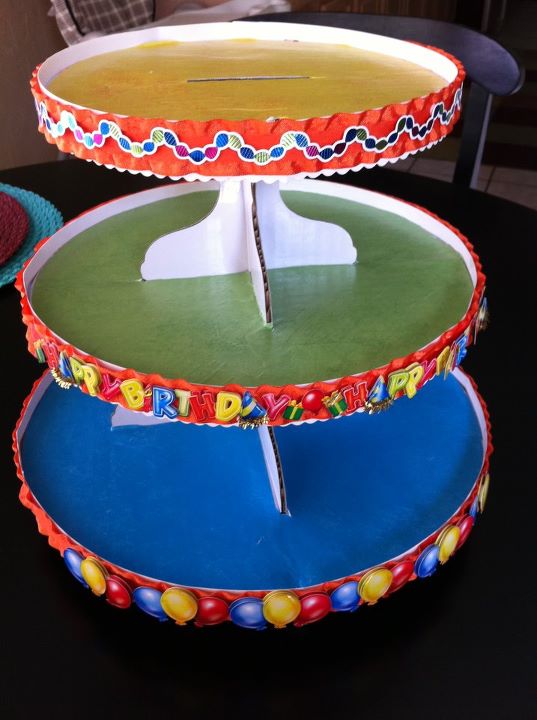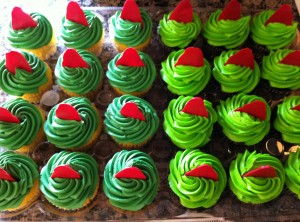 I had to have a little bit of character wrapping paper going on too!  Easy peasy!  Green wrapping paper and the same images from the banner…..cut and tape!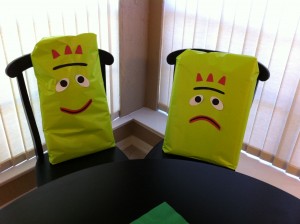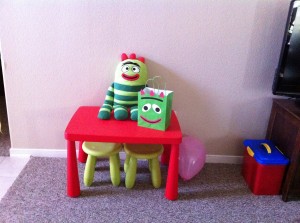 Now for one of the BEST things in my opinion!  A life size DJ Lance Rock as soon as you walk in the door!  My husband worked with a lady that just so happened to have one (weird I know!).  I got helium balloons and clipped them to his hand and gave them away along with their party favor bag (bubbles and chalk) when they left.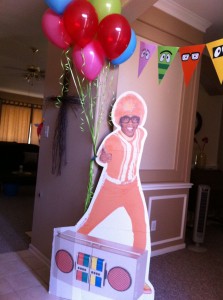 I LOVED this party!!  So simple, so easy, and sooooo totally GABBA!!!  We all had a blast!  Especially this lil sweet birthday boy!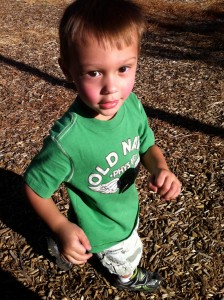 .