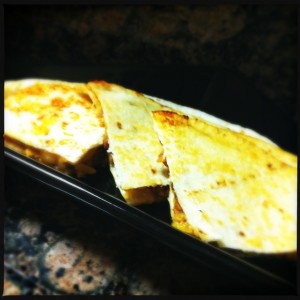 A couple weeks ago we made this bbq chicken and it was D-E-L-I-C-I-O-U-S!!!  We were skeptical at first but since I found it on Pinterest we had to try it!
Since I've been on Pinterest I've tried to make 1 new recipe at least every week.  Even if it's a dessert.  I don't pick meals that are going to take me a long time to make very often, I try to keep it simple.
Well when we ate the bbq chicken I said this would be good as a chicken taco.  Yesterday I made those chicken tacos and OMG OMG….they are the best bbq chicken tacos i've EVER had!!  But what was even better was the bbq chicken quesadilla I made.  Just look at the inside!!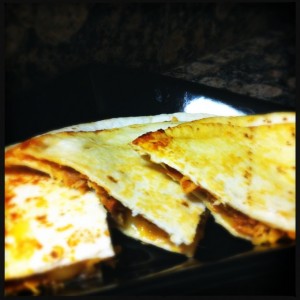 What I did was butter 2 flour tortilla's, added some of the bbq sauce mixture onto the non buttered side, added shredded chicken, sprinkled a little colby jack cheese on top and topped with the other flour tortilla.  Then I heated a skillet on high and added my quesadilla (turn heat down to med-low).  Cook on each side for 1-2 min.  It was seriously sooooo yummy!!  I'm glad we have tons leftover!
Here's my stepson enjoying his gigantic dinner, lol!  He has 2 chicken taco's, 1 chicken quesadilla, and for dessert I made a giant peanut butter cookie with mini reeses candies!  He was so full he couldn't even eat the pie slice of his cookie!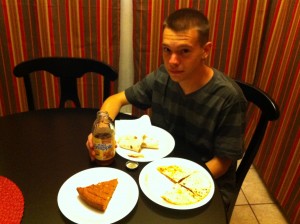 .