If you hate apples (like I do) you should really try this cake.  Honestly if you left the apples out and added a little water I bet it would taste just as good…the batter is sooooo good!!
So because I want to share it with you and I want to be able to access the recipe from the store I wanted to post this most delicious apple cake my grandmother always made for me.  I would look forward to this cake every holiday and summer.  Once she passed in 1995 I had no idea what happened to the recipe but once my mom got ill (2004) she gave me her cook book and I found this recipe tucked away inside!  I was so excited and I make it once a year.  I'm usually the only one that eats it but I eat on it for days.
Today I decided to make it in several pans so I could share with neighbors…..hopefully, lol!!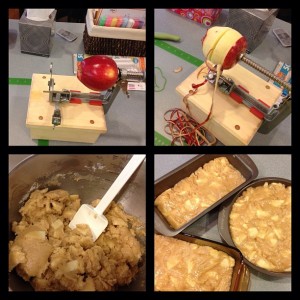 Granny's Fresh Apple Cake
Mix 2 cups of sugar, 3 cups of flour, 1 teaspoon of baking soda, 1/2 teaspoon salt, 1 teaspoon cinnamon, 1.5 cups of oil, 3 cups of thinly sliced/chopped apples, 1 cup of nuts (can omit), 2 eggs, 2 teaspoons vanilla.  Bake at 375 for 55 minutes or until center comes out clean.
That's it!  Enjoy!