It came and went so fast.  We celebrated our 9th wedding anniversary on May 24th!  Well we actually had our "dinner" the night before so the older kiddo could watch the other kiddo's since he had that day off work.
We were given an Outback Steakhouse gift card so yah….we went there!  We both had the new york stip steak, garlic mashed potatoes and a salad!   And we had to get the bloomin onion and scarf as much bread as possible!  We were so full from our meal we decided to get dessert to go.  He got cheesecake and I got key lime pie….they don't really have a selection so i settled on something i'd have a bite of and pass it on to the hubbs.  Which is what happened 2 days later!
On our actual anniversary the hubbs came into the bedroom after I woke up and he had 2 glasses of what looked like champagne or white wine.  It was red bull!  We're funny like that…..who has a red bull toast?!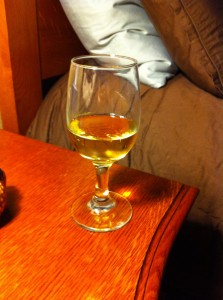 Since we celebrated our anniversary with a nice dinner the night before I knew we weren't going to do anything the rest of the day so I decided to make a nice dinner and his favorite dessert!
Pork chops, buttered parmesan noodles, carrots, and his favorite chocolate pie!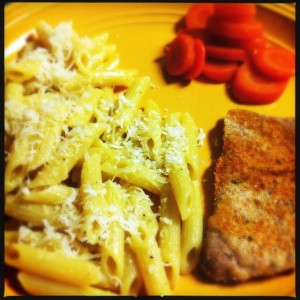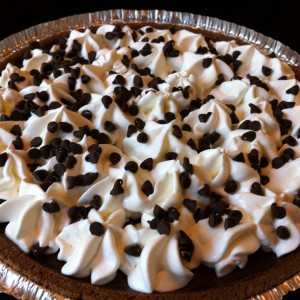 In preparing this dinner I knew I wanted to make something good and we've had a lot of chicken lately so I went with pork chops.  I wanted to do shake n bake but kroger was out of the generic and I just couldn't/wouldn't pay for the name brand there…yeesh it was expensive.  So I went with seasoned bread crumbs and seasoning salt….yah, I should have paid for the brand.  Then I wanted a buttered noodle and I had some leftover parmesan so I added that to the noodles.  OMG best thing ever!!!  It's definitely going to be a new favorite around here.  Then I chose regular ole canned carrots and added salt, pepper, and butter.  Easy yummy satisfying dinner!
The chocolate pie is just a regular ole jello pudding chocolate pie.  I just put my cool whip in a pastry bag and piped it on top and added mini choco chips.  The hubbs favorite crust is the shortbread but kroger was out of it too!  So I went with a chocolate crust since we both don't really care for a graham cracker crust.
Happy Anniversary dear!  Let's have MANY more!!  Love you!.