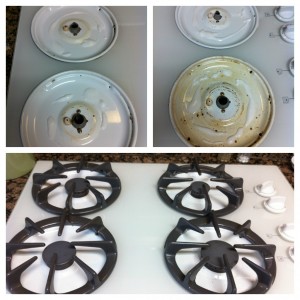 So my stove was looking AWFUL!!  Had to clean it.  I saw this technique on Pinterest and had to give it a try.  I don't keep amonia on hand so I had to go buy some.  Got all ready to do it and my gallon baggies wouldn't hold my burners….grrrr.  So I'd given up.  A week or so later I saw 2 gallon baggies at Kroger…got those.  Then another 2 weeks went by and I finally decided to get it done.  And I tell you…it was so easy and they are so clean now!
I also cleaned my stove top….didn't want to do half the job.  I made a paste out of baking soda and peroxide, smeared it all over and then rubbed and rubbed.  Not gonna lie…..that part was kind of a PITA.  I think it's only because I put a lot on there.  I suggest putting paste on in small amounts in a small area….unlike me where I added the paste all over and then scrubbed.
This is a picture before I started scrubbing.
After I scrubbed.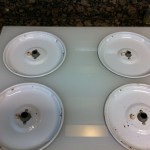 I put the burners and all the attachments (since I have a gas stove) in the bags overnight with about a couple of tablespoons of ammonia.  I honestly just tipped the jug into the bag and said that looks good….I also forgot to take a pic of them in the bag.  Here's a pic of the grime that came off  without any scrubbing!!  Yes it's gross!!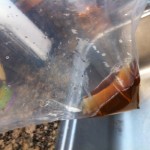 So now the stove is all clean and the landlord even liked it!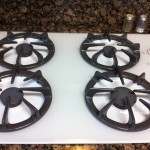 .