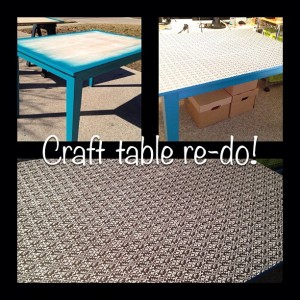 So I got this kitchen table off craigslist in March 2012.  I was going to paint it with in a week and well life just got in the way.  Once I put stuff on it and started working on projects I never did anything with it.
This weekend I decided to have the hubbs do a lot of odd things around the house (take Christmas lights down, fix gutter extensions, sweep driveway, etc).  Well I told him while he does all that I want to paint my craft table.  He said well i'll sand it for you (since I have a bad left hand).  OK!  He took down the Christmas garland first because he didn't want any of the sand dust getting all over them.  Then he sanded.  When I went to grab him a "Man Lunch" (Dickey's BBQ) he painted it for me!!  I was in total shock and VERY VERY thankful that he did.
He honestly did a better job than I would have.  I'm cool with that cause I didn't do it but I definitely wouldn't have done that good of a job, lol.
So let's talk about the color.  I wanted to use my favorite teal color I've used in the past (Rustoleum's Satin Lagoon) but it's been sooooo hard to find it.  Well today was my lucky day.  Home Depot had tons of it!
The top finish is not your normal finish.  I wanted something that I didn't mind messing up….after all it's a craft table.  I thought about painting the top black but then decided I'd get all mad the first time I got a drop of paint on it or mod podge, etc.  So I decided to mod podge scrapbook paper to the top.  It's durable and can be messed up and not that noticeable   Perfect right?!!  Since this was a last minute project I hadn't bought my paper and the paper I wanted to use was at Hobby Lobby….it's Sunday, they're closed!!!  So I take my chances and go to Michaels.  I didn't find a close enough paper but decided on a black and white pattern.  Once I got it home and laid it next to the table I'm soooooo glad I went with this one.  The one I wanted at Hobby Lobby was way too blue so it wouldn't have worked anyway (I had a few scraps from previous projects).
The materials you'll need to do a table like this are listed below.
sanded table
spray paint (we used 1.5 cans)
scrapbook paper
mod podge (i used an entire 8oz bottle of matte)
sponge/paint brush to apply mod podge
ruler/scraper (I highly suggest getting the Mod Podge Brayer.  I did not have it and I do have a few bubbles that I just can't get out)
Overall I'm VERY VERY pleased with this project!  As you can see in this picture I now need to get some bookshelves/baskets and make my storage stuff look nicer–eek!!