Yes, that title is correct!  It took us 3 days to get there, spent 2 days, then it took us 5 days to get home!  Think we're crazy….maybe so but it was so fun!  However by the 4th day driving home I was ready to be home!  Even if I don't like home….
So what took us to Texas for 2 days?  Before we moved to Washington my in-laws were having hard times and the gas in their big quad cab Dodge hemi truck was killing them.  So we traded them our PT Cruiser for their truck.  Then my husband got the job at Amazon…..when he came to Washington for his interview he noticed that the parking spots in Seattle were not quite large enough for a truck of that size so we sold the truck and got him a Mini Cooper.  Perfect for Seattle, right?!
A year goes by and we get a call from the in-laws that the PT Cruiser broke down….turns out to be the timing belt.  We were still making payments on that car so we couldn't just get them another car.  The plus side is the dealer we bought it from would give us a lower pay off if we traded it in there.  Downside…..they're in Texas and we're in Washington!  So after a few days of thinking what in the hell are we going to do we decided to sell my hubbs Mini Cooper here in Seattle, drive to Texas, get the in-laws a car, trade the broken car in for the hubbs to get a new car and drive 2 cars back.  So that's what we did.  Crazy thing is I just got a new car the month before.  At least we didn't have to make that drive in my old car!
Since school had just let out I of course wanted us to all go to see friends and family.  We decided to leave a day earlier than planned and didn't get out of town until mid-day after all our runnin around that we had to do first.  You might also ask yourself as you read along that we didn't quite take the quickest route.  Since we had time we took scenic routes instead.
Once we finally left we were pumped!  We'd never done anything like this so there was a lot to see.  We stopped about every 2 hours to stretch our legs, get drinks, potty, etc.  Doing this we never got tired or sore.
We stopped at this really cool Gorge at the Columbia River.  As you'll see in the 2nd pic below it was a tad windy!

Next we stopped in Spokane, Washington to see the Big Red Wagon.  That was cool!  Really hard to find in that park though.  I can't even tell you how to find it but I'd ask someone if your having a hard time.  I was like how are we missing a 12′ tall wagon?!!  Well it's easier than ya think!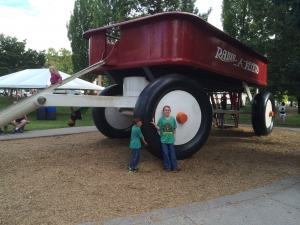 Montana and Wyoming were very cool!  We saw a moose and a bear!  A friggin bear ya'll!!!!  And because the speed limit is 75 we weren't quite prepared to take a pic.
Did you know that Wyoming has some red roads?!  Not sure why but it was cool enough for a pic!  And the sunsetting in Wyoming was awesome too!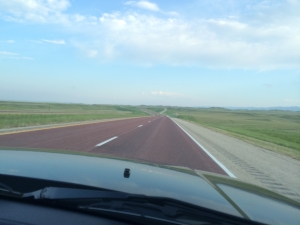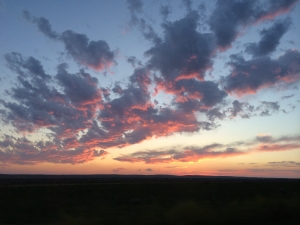 Something I didn't tell you earlier is we kept the destination of this trip a surprise from the kids.  Now….of course Kennyth (10 yrs) guessed it and knew where we were going the entire time but we still managed to not tell him until we were on Texas soil.  And yes he was pissy almost the entire trip because we wouldn't tell him.  But our first stop in Texas was just for him!  His favorite pizza place!  And of course since it's not the usual one we would always go to (cause it was still 8 hours away!) it wasn't as good, lol!  Oh well!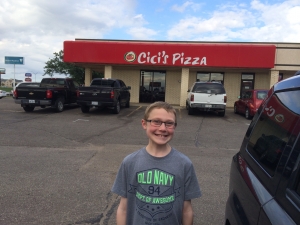 We arrived at our friends house about 1am….I know they were not happy about that…sorry!!!!  First thing the next morning we got up and got my hubbs his new car!  (This pic was taken in Utah–only good pic we got though)
After that we got to see our oldest kiddo that I just saw a month before at my brother's wedding but the rest of the family hadn't seen him in over a year!!
That night we got to see one of Jayson's friends Ethan!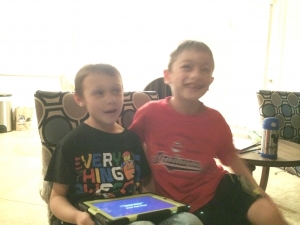 The next day the boys got to see Grandma….at Cici's!!!  Yes, our normal location…and yes it was WAY better!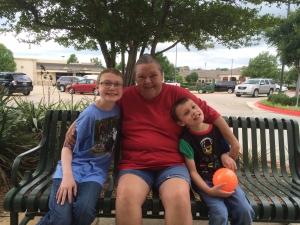 Next up was Kennyth's best friend Chase!  I let him stay an hour or so to hang out.  Jayson and I went to see our old neighbor (she's not old though) Nanette.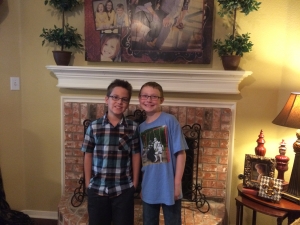 That evening we got to see my nephew!  He was just a baby when we left and I was so sad about leaving him.  And of course he didn't know me but I still tried to squeeze him!  Of course we had mexican food too!!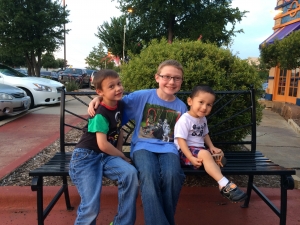 On the way home we went to my brother's house.  I was the only one able to come to the wedding we wanted the rest of the family to see him….sadly his new bride was out with the girls.  Ah well.  Luckily she has family here in Washington and will come visit soon!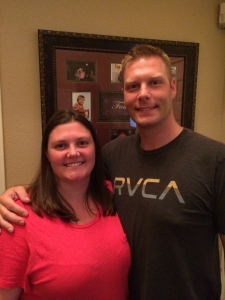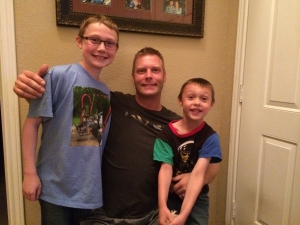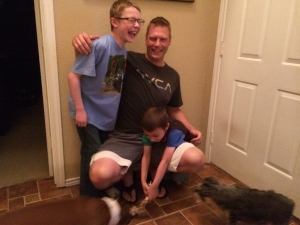 The next morning we stopped at our oldest's work to say goodbye.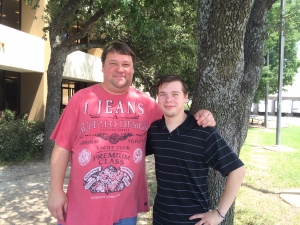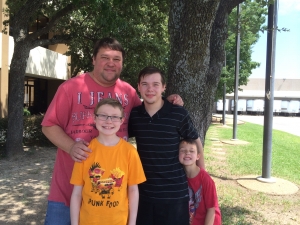 The trip home…..to be continued.