I have finally finished my spring decor!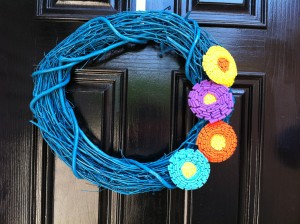 I spray painted a grapevine wreath that lagoon color (LOVE!) and then I let it sit on my door naked for a week, lol!!
I then finally got around to making my flowers.  Which really means I made a trip to Hobby Lobby.  Made the flowers (tutorial soon!) and then my wreath was wet from rain….had to wait, ugh!  Finally it was time to make it and I love it!  It's springy and summery!  I might change some of the colors but I love it so much I might keep it up until fall.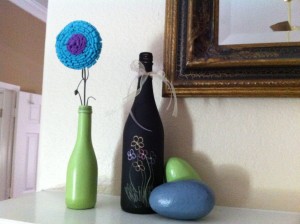 I've shown this pic in another post but I added this vibrant flower.  It's my favorite by far!  I'm really loving this teal color!
So there's my spring decor.  Simple, bright, and pastely (I know that's not a word)..