So ya apparently I took some of the summer off from doing everything!  Actually I spent a lot of time with the kids.  And I actually got sick of swimming.  I NEVER thought that would be possible!
We went swimming, bowling, bounce houses, a city scavenger hunt (yah, we bailed on that in the 100+ Texas heat), parks, yogurt shops, a Blue's Clue's Play at our local theatre, lego camp, a Lamborghini track drive for the hubbs, and we got a dog…I think that's all, lol.
Here are a few pics of our summer fun!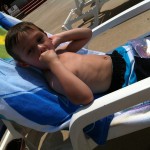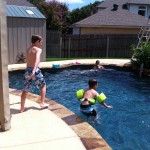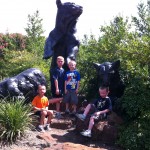 We have a membership to a local rec center and they have a really cool pool so we were there quite a bit, especially on the free nights so our friends and family could meet us to play since they don't have a membership.  Then we went to a water park called Hawaiian Falls for Champions Day (it's for families with special needs).  OMG OMG that was so much fun!  We're definitely getting season passes there next summer.  We love the champion day so much that we went the very next weekend!  Then we went on their 2nd champion day and then again the week after that (like you care how many times we went….but we went several times!!).
The last time we went was when I was given some free kids tickets and I had a bogo coupon so I decided to take a very good friend and her kids.  For us 2 adults and 4 kids it only cost me $26 to get in the door.  We stayed about 7 hours….they had a blast…we had a blast…and we were so sore and tired the next day!!
Here are a few pics of our outting with friends.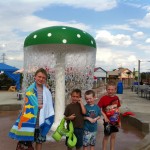 I'll say we had a fantastic summer!!!.