I'm 32 years old and I just got my first cast iron skillet.  I never wanted to clean it up the way it needed to be cleaned so I steered clear of them.  But when we lived with my Dad a few years back he would cook us breakfast and I always admired how his bacon was.  So crispy, yet chewy, and well just perfect!  I watched him and he used a cast iron skillet…I still didn't want one at the time though.
Last week I decided that there's no reason to not take the time and clean it properly.  I have Pampered Chef stoneware and can hand wash that w/out soap and not have any issues so why can't I commit to the cast iron skillet.  I got the biggest Kroger had, on sale for like $18.00!!
So you might wonder…..what the first thing I cooked in it was.  Well DUH!!!  BACON!!  Yes…I was finally going to have this glorious bacon…and yes it was glorious!!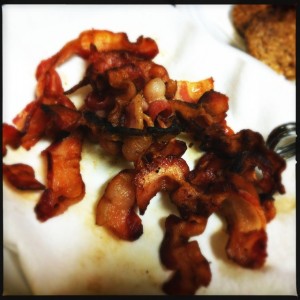 I couldn't stop there….I also made brownies in it the next day, lol!!  I just used regular boxed brownies and LOVED how they turned out too!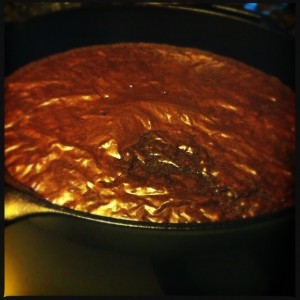 I have now begun to look for more cast iron skillet recipes.  If you follow me on Pinterest you've already seen me pinning away!.