We decided to paint my office!!!  Well….I actually wanted to paint it and begged the hubs.  He said yes…even to the color I wanted.  WHAT!!!  Yes, and it's awesome!
Took it from a hunter green to an awesome minty color!  Having a lighter color in the room totally makes it easier to work in there.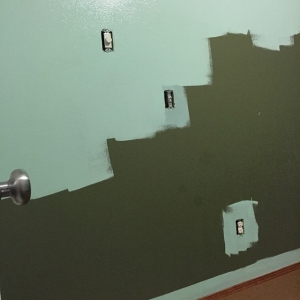 Here it is!  So nice!!

Then my stepson decided to move back to Texas.  So we made his room into a guest/office for the hubs.

Then we made the upstairs game room into a large Lego Playroom!!  We spent WAY too much money and time at Ikea!!!  But the turn out was great!  I'll have another post and better pics soon on the Lego Playroom.

And that's it for January.  Not a real eventful month….we were definitely happy about that!