It seems like everyone likes to come ring my doorbell or knock so loud on my door during nap time.  If it's not scheduled deliveries it's scheduled maintenance (everything seems to be breaking or need maintenance in this rental home!).  So I grabbed me a hot pink sticky note and a sharpie and wrote "baby sleeping, please knock quietly!".  It worked 99% of the time, YAY!!  But it was UGLY!!  So I'd been thinking of hanging a picture outside but couldn't come up with a cute way to display it.
We recently went to a local resale shop and they had several pieces of wood for super cheap….like under 25¢ each.  Yup, got those!  Then it hit me a couple days later….make a sign out of it.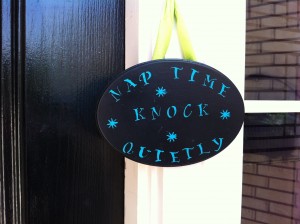 I painted the wood black and used some sticky stencils I got from walmart.  My paint is a folk art aqua….I might be redoing it soon to match the green ribbon but it's what I had and I went with it.  Once the stencils were on I brushed the paint on and did 2 coats.  After it was all dry I used a matte clear coat to seal it all.  To attach the ribbon I used two thumb tacks.  I pushed the tacks through the ribbon then  hammered them into the back for a tight fit.  Oh and I didn't have any bright ribbon (need it to stand out ya know) and as I was walking away from my ribbon stash all sad that I had to go back to the store I saw it!  A gift bag with this ribbon for handles.  I cut it off…perfect size!
I believe it works too!  There was suppose to be a contractor coming to the house today to replace an awning on the front of the house.  Our landlord said they'd knock to let me know they were there.  So they either didn't knock or knocked so quietly I didn't hear them…which I'm totally fine with!
My napper napped on and I blogged on….great nap time today (2 whole hours!!)!.