So school is out and summer is here!  We definitely know that summer is here in this house….our air conditioning has been out for a week!!!  Luckily for most of the week it's been out we had a little rain that cooled the temperature off a bit. So mostly we've been in the low 80's but we're quickly climbing back into the mid 90's!  We do have 2 window ac units and a stand alone unit that we've hooked up so the living room and bedrooms are cool at night and tolerable during the day.
So back to the popsicle parties!  Since my youngest son is 3 and most of his classmates are young I scheduled his popsicle party for the morning.  And I had a genius idea to schedule my middle son's popsicle party for the same day but in the afternoon.  Maybe it was the heat since we had no air or the outside temp being in the 90's since 10am that day but yah….I don't think i'll ever do them the same day agian!
Here is a pic of a generic popsicle invitation.  I created the invite in photoshop (just learning how to use it).  Anyway, I used a popsicle coloring page template, added my text, hot glued a popsicle stick on the back and used a 1.5 inch scallop craft punch to make the bite look.  For my real invitations I used some super cute cardstock from Michaels.  It was a pale yellow, seafoam green, and a blue…they had embossed polka dots on them too.  But this was my test paper…paper I already had at home that I just don't use.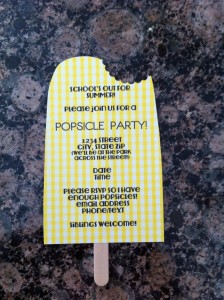 To get the template email me at messijessimail.com (i'll post the template when I figure out how to get a psd uploaded!)
Here are pictures from Jayson's (youngest son) party!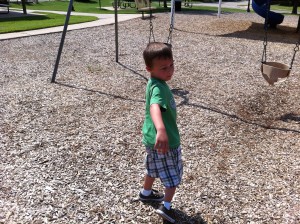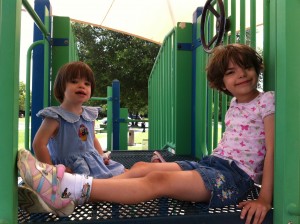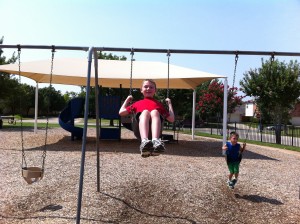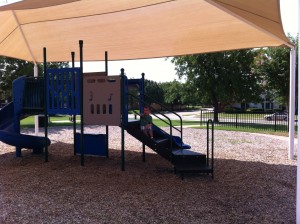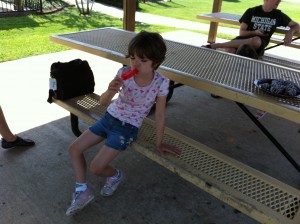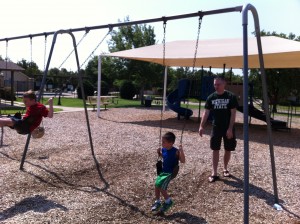 And this is my middle son's popsicle party!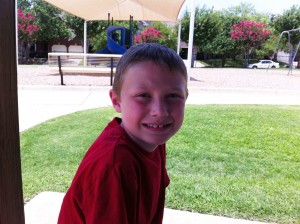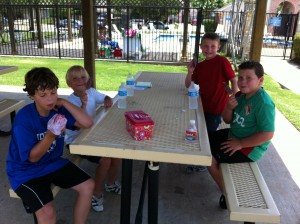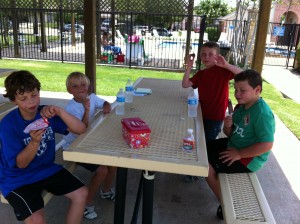 Overall everyone had tons of fun!  I loved the smiles on my boys faces!